Hello,
i am trying to understand what would be the best practice in Omeka-S to describe objects, which according to CIDOC-CRM, would have a nested structure.
For instance if i create an item with the E24 Class ( Physical man made thing), i can then insert a field with the P1 Property ( is identified by), and then i can add a literal as text to fill the field.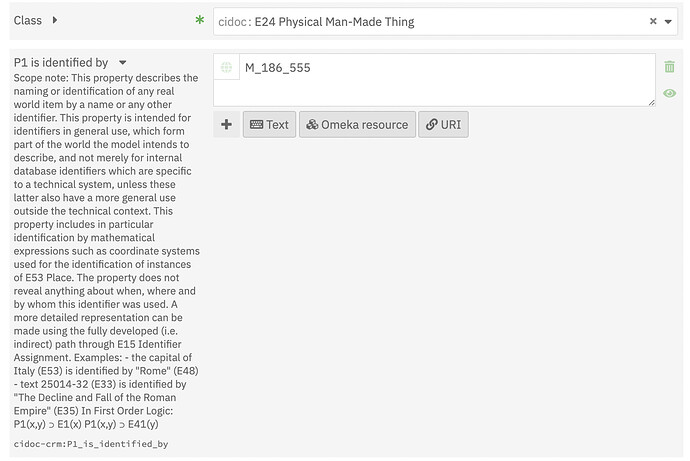 Nevertheless, according to CIDOC-CRM, ideally i should connect a class E42 for the identifier, which then contains my literal.

I have the feeling that applying this practice in Omeka-S it would lead me to an overload of Omeka resources that i would then have to create for each objects to get a similar output. It would easily get out of hand.
As mentioned here i could just stick to the data properties. Though, if i would later set up a script to convert the JSON-LD Omeka-S provides to RDF, i would have to do quite some hard coding into converting the fields to a proper structure.
Wouldn't it be possible to define classes in the resource template as data type? Or something similar, where i could at least add a key to our json-ld objects to make the later conversion just a bit easier?
How should i proceed?
Thanks