Make sure that you have unticked the box in top nav Settings - Security for 'Enable HTML filtering' for the embed code to work.
That error seems to indicate that you have exceeded a quota of requests on the Google/YouTube side of things. It may not have a solution on the Omeka side.
Hi @jflatnes. I found a possible solution in GitHub https://github.com/UCSCLibrary/YouTubeImport/issues/34 , but I haven't put it into practice yet. Hope that works
I have another question about the thumbnails of the videos. In my Omeka installation in hosting the thumbnails are not generated automatically. I wish I could get those video thumbnails so I can use them in the exhibits.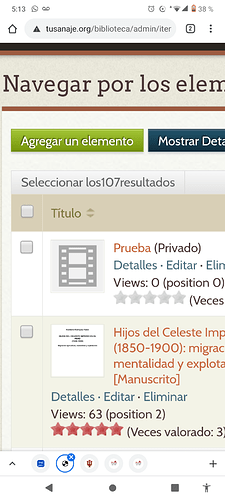 These are YouTube Import videos or directly uploaded videos?
Usually for direct uploads it's just a matter of having ffmpeg installed on your server alongside ImageMagick to get video thumbnails working.
Thanks. These are uploaded videos.
Any version of ffmpeg works?
This topic was automatically closed after 250 days. New replies are no longer allowed.