Dear Omeka Team,
We are using the Omeka S 4.0.1 & Thanks, Roy theme version 1.1.2.
We have 3 levels of navigation, and the Top Navigation Depth is set to 0 to show all levels.

However, on the front end, we see the following message: "Warning: Undefined variable $navDepthSetting in /var/www/expo.bu.umk.pl/themes/thanksroy/view/common/sub-navigation.phtml on line 1."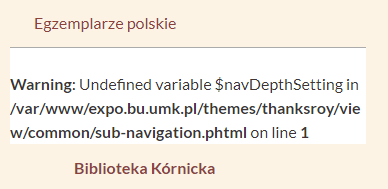 How can we fix this issue?
Thank you.