DocsViewer wont preview documents. URLs are all publicly visible.
Everything is up to date.
This is how the documents display:
It's also not happening to all documents, just a select random few. File size seem to not matter. It happens to files sized less than 25MB.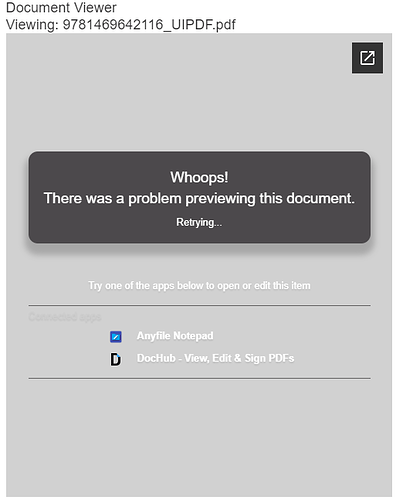 After retrying- it just keeps refreshing over and over.
It generates a request to the following URL (Network inspection in web debug mode)
https://docs.google.com/viewerng/thumb?ds=AON1mFwZqeKiYQME3asOZ29HOloK9nZgRXzReLlEuIfAM28xo5_lLm44yoQXS2bLxd1Q6Eb5CeAKHjU5I_F7wOgIKCyDhEGke13tRyA5xB5m7T0rl98rK4rnpE4JJ_C0qP8fFtS0nMgreu9QP1qyEL_mMmqKqLptSEYKUL4WFRVqrBdY7XbrmWaEV1yLNhc5AXWf7xOBFDln2GIw2w13SlrApopD_-4LD2o-CZg8awMrx-tUK1GcIXB8oSF8ggHLkr0PyfqrtCtMIKZCPGHAi3ctUunTJhafE4ABuvBEJamImgY4Esauq1Nq4MvQAk2iTMBFRm68qZo7&ck=lantern&webp=true&p=proj&w=800
Which returns a reply of Code 400.
I'm not sure why it's doing this.