My Simple Contact Form displays the old Captcha.
Is it possible to change it to the new one:
Thanks,
Mike
I'll want to do a little more digging, but it looks like the framework underlying Omeka, Zend Framework 1, only supports the old one, so, for now it looks like we're stuck on that one.
Thanks Patrick. It would be a nice improvement for future.
Mike
I got this e-mail from Google recently warning that the old version will be switched off soon. Will there be an update to resolve this.
You are receiving this email because you are registered as a website administrator using reCAPTCHA, and
your website is still using reCAPTCHA v1, which will be turned off on March 31, 2018.
The plan is to address this with an update to Omeka, yes.
The logistics are a little tricky because in general old Recaptcha keys won't work for the new version and vice-versa, but we've had some promising code contributed that allows switching between v1 and v2.
Hi Folks,
Just checking if recaptcha v2 is supported yet in Omeka and, if so, which is the lowest version that supports it? (I note that it appears to be resolved in https://github.com/omeka/Omeka/pull/814)
The pull request you linked to has been merged and recaptcha v2 support will be released in Omeka 2.6, coming soon.
Terrific, thanks for the quick reply John, I'll await that release
Hi John, by the moment, I can´t upgrade to 2.6. I am still using Omeka 2.5.1, what is the best choice for using reCaptcha? V1 is not working,
Thanks
Upgrading really is the option… the code necessary for using the newer recaptcha doesn't exist in Omeka 2.5.
Hi,
I am new with Omeka.
First, congratulations. This software seems nice!!
Second one, Recaptcha v.2 is giving me some troubles. I have the last version of Omeka but Simple Contact Form crashes.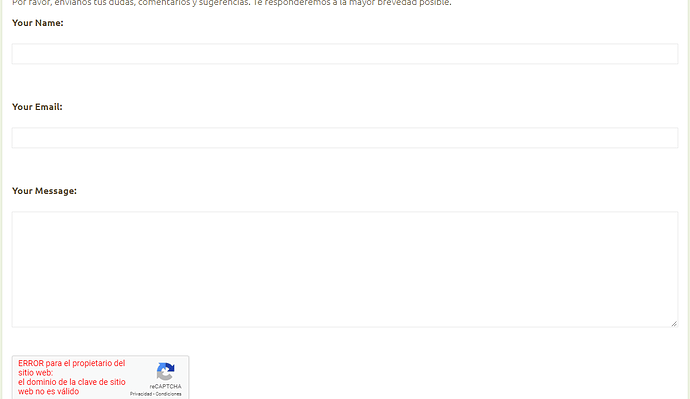 I am quite sure I wrote correctly both keys. In fact, they are working in a Wordpress version of my web. It says something like "Web domain in not correct for that keys".
Any idea? I am in a mess since 4 days ago.
PS: Also, as you can see, there are 3 text in English I cannot translate into Spanish. How could I report it?
Thanks in advance :o)