Hi there.
It seems that following the Best Practices suggestion to use addElementToSaveGroup to insert elements in the Save side panel is creating an issue with sizes (see picture below):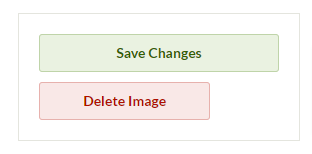 Code is as follows:
$this->view->form->addElementToSaveGroup('note', 'delete', array(
     'value'    => '<a href="' . admin_url('admin-images/index/delete-confirm/id/') . $image->id . '" class="delete-confirm big red button">' . __('Delete Image') . '</a>',
     'order'    => 6
));

It seems the issue is generated by getSaveGroupDefaultElementDecorators function inserting an extra div (with class="field") to contain the button, and the field.input css style making it resizing the width to calc(5/7 * 100%).
Any idea how to fix this? Besides, I wonder whether the resizing of input fields in the save side panel is actually needed at all…
Thanks