Hi to everyone,
Even with a very simplified CSV input file like the following, the import CSV process get stalled and finishes with a "timeout". … :
FIRST LINE: Dublin Core:TITLE,Dublin Core:CREATOR,Dublin Core:DESCRIPTION,Dublin Core:PUBLISHER,Dublin Core:CONTRIBUTOR,Dublin Core:DATE
SECOND LINE: Voies,Claude,Le,ARSSAT,ARSSAT,2014
(no extra char like " or / or ; )
However the file seems to be read correctly :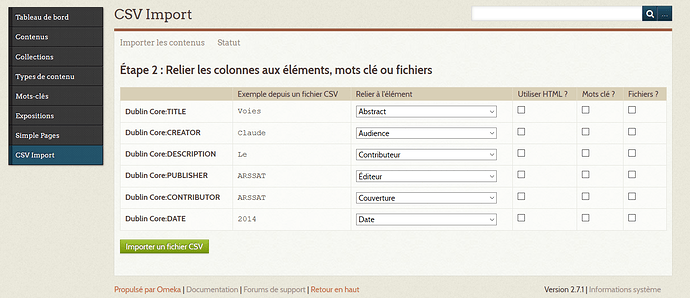 The input file is UTF 8, I changed CR to CRLF and LF to CRLF, but nothing !
I need help, please !
Jacki