Hi. I am trying to install Omeka and then Neatline on my Amazon Web Services server. I am using the following manual
https://drive.google.com/file/d/0Bz1FHvEQjbvKLWNfYnFCVEVkOEU/edit
which is from 2014 and references Omeka 2.0
sudo apt­get install unzip
sudo apt­get install php5
sudo apt­get install php5­mysql
sudo apt­get install apache2
sudo apt­get install mysql­server
sudo apt­get install imagemagick
sudo apt­get install php5­xsl
All went ok thus far. However,
it seems that the Omeka folder is empty even after unzipping, and the zip file still has the files based on size
drwxr-xr-x 8 ubuntu ubuntu 4096 Feb 15 00:41 omeka-2.6
-rw-rw-r-- 1 ubuntu ubuntu 16344458 Feb 15 14:44 omeka-2.6.zip
Hence
sudo mv omeka2.6/* /var/www/
sudo mv omeka2.6/.htaccess /var/www/
sudo rm /var/www/html/index.html
merely yields an internal server error when I put in my AWS IP which should yield Omeka starting up.
BTW I am using a 2008 iMac with 4GB RAM.
If anyone could help I'd much appreciate it! I set up user permissions and configured the MySQL database and Apache as per the above manual pp.22-26.
See Screencap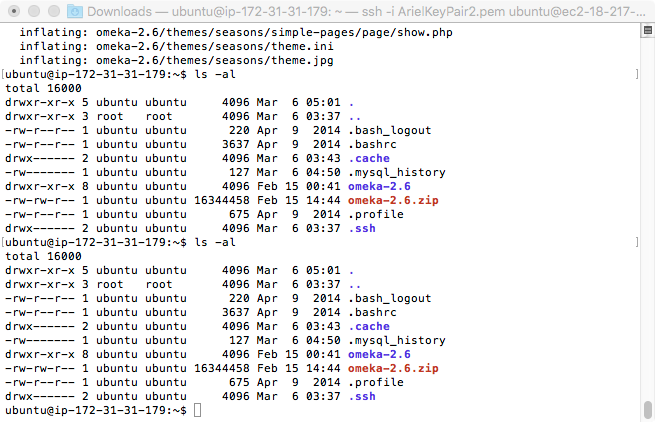 Sincerely, Ariel Segal