Hello there,
My recent CSV imports do not work, the associated jobs are marked as "Starting" and nothing is listed under "Past imports" but I think they are blocked by the Batch Delete (Job 1). The Batch Delete was unsuccessful because I had mistakenly made a change in AbstractEntityAdapter.php (my bad), but is there a way now to undo or stop this job, other than re-installing the whole Omeka?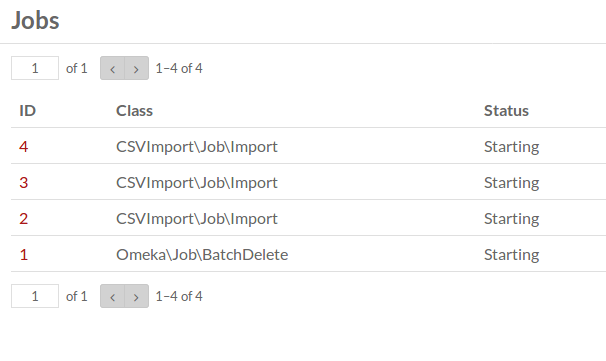 This actually reminds me very much of the problem detailed here for Omeka 2, is the procedure to follow the same?

Or is there a way to undo imports as was detailed here for Omeka 2? http://omeka.org/codex/Plugins/CSV_Import_2.0#Undo_an_Import
Thank you in advance!