I've just installed Omeka S for dev purposes (plus Plugins CSVImport and Scripto, with Mediawiki), under XAMPP. I have some probably basic problems I hope you can help me with.
Right now, I have problems creating items. Or, better put, I can create one fine but cannot upload media for items. Since the purpose is to build an environment for transcription, item equals page. Trying "Upload" throws an error. It does create a file in the \files directory, during the process but apparently it doesn't do anything with it.
Similarly, a very simple csv Import or Sync job also throws an error. I tried to change the settings in .htaccess to development mode in order to get detailed error message, but that only breaks my whole Omeka, with dozens of errors and deprecated messages: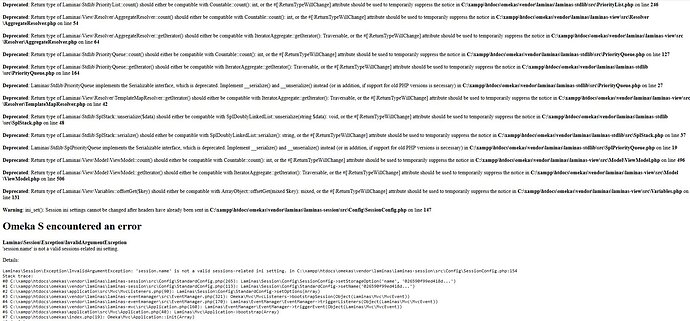 Now I'm stuck.